Thursday, 9th June 2022
2022 Mandorla Winners Announced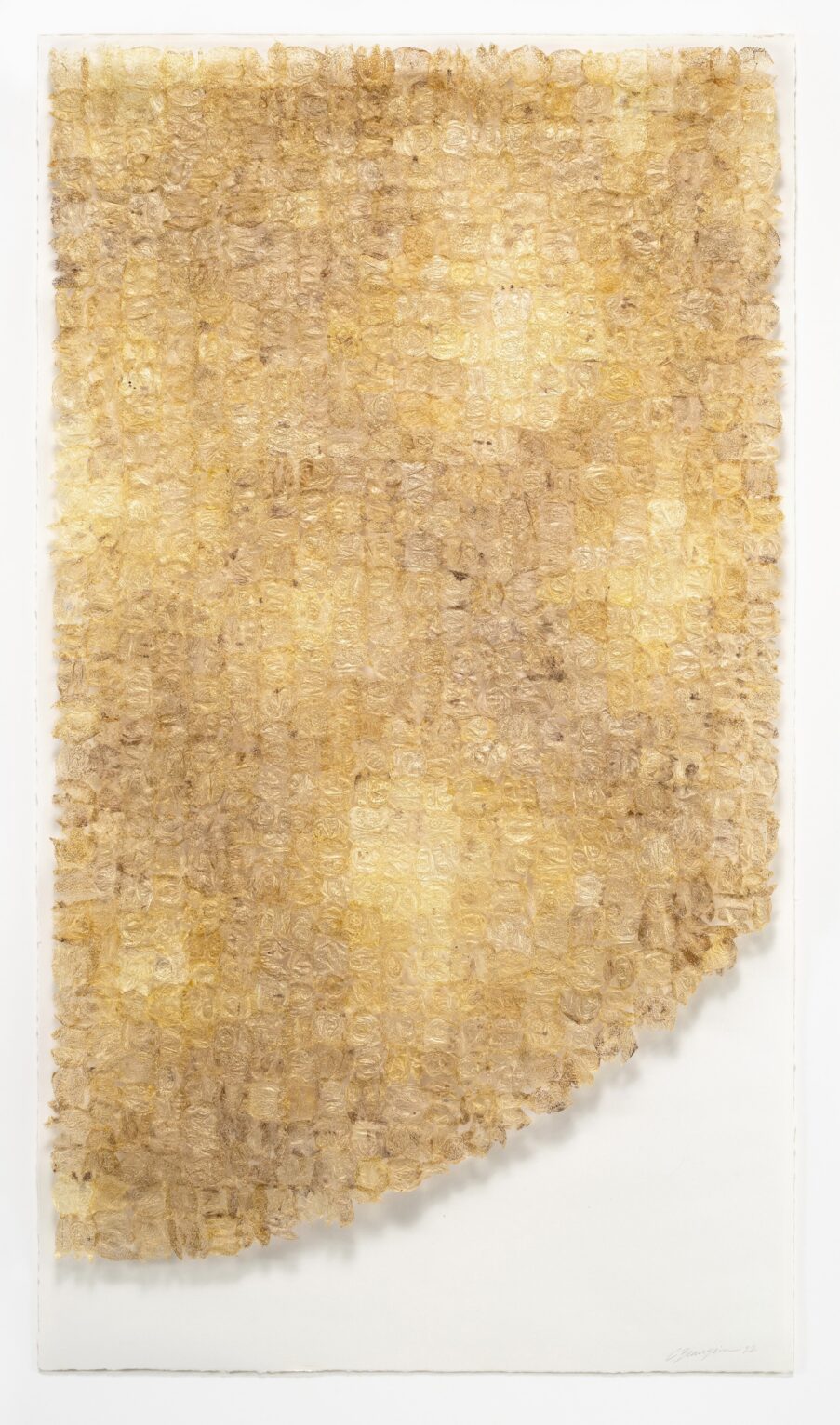 Over 200 people attended the Mandorla Art Award's opening night on May 20th at the Holmes á Court Gallery.

Claire Beausein (WA) was the thrilled winner of the major $25,000 St John of God Health Care Prize with Chalice, a stunning work created from wild silkworm cocoons stitched together with silk thread. A poignant addition to the work is the use of museum pins, traditionally employed to secure moths for display. Claire's ancestors were lace makers, and this influence is inherent in her work. She studied at the Sydney College of the Arts, graduating in 1984 with a Bachelor of Arts (textiles) in 1984.

Judges Chris Malcolm, Erin Coates and Ros Fairless said, "The prophetic imagination invites us to lay aside old ways of being and sources of authority, and to imagine new futures. Claire's work embodies this call, as she moves beyond symbolism and works patiently with raw materials, each chrysalis a vessel that holds transformation. The shimmering, luminous quality of the work had an immediate impact on all three judges, and the decision was swift and unanimous. The work evokes images of shedding one's skin in order to grow, of ceremonial scrolls, cloaks, and other religious ephemera, but the artist's lightness of hand lends the work a magical quality, as if silkworms themselves had made it. Exquisitely made, Chalice floats off the background, shimmering with golden, dappled light and shadow, inviting us to imagine..."
Other winners were:
- $5,000 Highly Commended sponsored by the Catholic Diocese of Perth: Terre Verte by Susan Roux.
- $5,000 Highly Commended sponsored by the Anglican Diocese of Perth: The Rider by Angela Stewart.
- $5,000 Patricia Toohey Painting Prize: fromlittlethings by Michael Iwanoff.

Voting is open online (one vote per person) at mandorlaart.com for the People's Choice Award, announced at New Norcia Museum and Gallery on Saturday 18 June.

Lyn DiCiero
Curator